Accurate identification of picking and putaway positions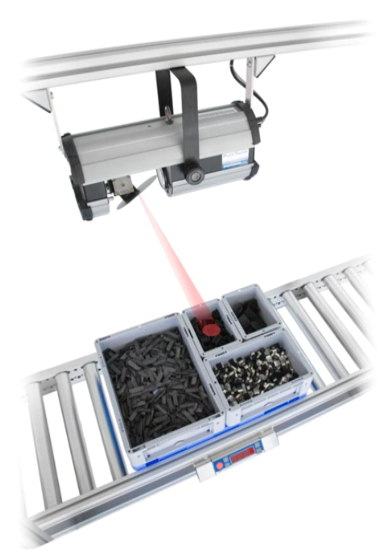 PickTerm Tray facilitates the accurate identification of picking and putaway positions for goods-to-man workstations, examples being lifting systems with trays or mini-load (ASRS) picking stations.
PickTerm Tray essentially consists of a stationary high-performance LED source of light which produces a light spot that is projected by a controllable, deflecting mirror directly onto the source or target compartment of a tray The mirror can be positioned precisely and rapidly over an extensive area. Each individual partition of the tray can be selected individually without grid spacing, and even different sized trays are possible.
The colour of the light spot is variable and can be adjusted to various tray or article colours to optimise visibility. Also the size of the light spot is with version V3 dynamically adjustable for adaption to different compartment sizes.
Additional information, such as the volume to be picked, information on the article or order as well as on information on the source is shown on a workplace screen or PTF display.
PickTerm Tray is ideally suited to both order picking and storing items in all tray-based warehouse systems.
Key Advantages PickTerm Tray
 Significant reduction in search time
 Picking Errors are eliminated
 Maximum flexibility in changing the product range
 Wear-resistance mechanics
 Target Containers can be configured at will
 Highly effective and maintanance free through LED technology
Application range of PickTerm Tray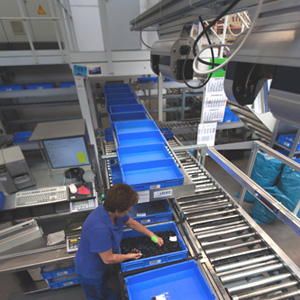 Work stations at automated small pieces warehouse
PickTerm Tray lift systems with trays
horizontal circulating shelves
Pick-to-Tote-posts
Assembly workplaces with light-guidance
KBS supports you in planning and implementation.
Simply pick up the phone and dial +49 761 45 255 50 or use our contact form.