At the 18th International Trade Fair for Intralogistics Solutions and Process Management LogiMAT 2019 in Stuttgart and at the Intra Logistics in Paris the Pick-by-Light specialist KBS Industrieelektronik was showing a further developed interface unit for the Pick-by-Light modules from the PickTerm Flexible product family, which are designed in particular for use in picking zones with frequently modified layouts, for example in supermarkets in manufacturing logistics. In addition also a new version of the PickTerm Tray compartment illumination with dynamic aperture was presented.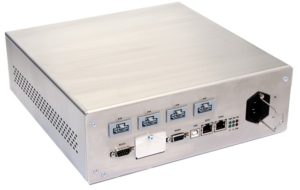 The PTF-SUB3 interface unit is a further development of the successful and proven PTF-SUB2 version. The two core functions – the supply of power to the connected Pick-by-Light modules and the interface function of PTS-BUS to industrial standards such as Ethernet, RS 485 or RS 232 – have been optimised. The new wide-range power supply (85–265 V AC, 47–63 Hz) with a particularly low standby power consumption of a few Watts enables worldwide use and allows the connection of Pick-by-Light components up to a rating of 150 W. A new, second RJ45 Ethernet port enables the cascaded connection of several interface units without additional switches.
However, probably the most important new item for the user is the fact that both the network connectors and the connections for the PTF-BUS cables are executed as self-locking or lockable plug connections. This means that the device no longer needs to be opened for the installation, configuration or layout changes of the Pick-by-Light Installation.
Jumpers and DIP switches for the hardware configuration of the interfaces are located safely behind a cover. For on-site diagnostics the controller has six general status LEDs and two further LEDs on each Ethernet interface. All important state characteristics such as input and output voltage, temperature or communication status are continuously monitored and signalled in real time to the control computer in case of exceptional states.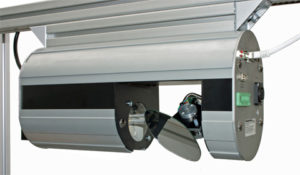 As a further new item, KBS is presenting the new version of the PickTerm Tray compartment illumination. This enables the reliable identification of withdrawal or storage positions at goods-to-man workplaces such as lift systems with trays or at the picking places of automated storage and retrieval systems (ASRS). For adaptation to differently sized compartments that are to be lit, the new version has a dynamic aperture with which the size of the light spot can be adjusted. The optimum visibility of the light spot with various container or article colours is ensured by the different colours of the light spot.
Almost all modules from the PTF and PTF-S series are now available with the new "DUAL LED". This oval, centrally divided eye-catching light is considerably larger than its round predecessor and thus even easier to notice. It is divided in the centre and can thus light up in one of the seven available colours or in two different colours at the same time. This simplifies the work of two pickers in the same zone, in addition to which special functions can be signalled even more clearly. Further useful options such as non-contact confirmation or a connection for external signal generators are available to the users and expand the possible uses of the highly flexible system.
_____________________________________________________________________________________________________________________________
KBS Industrieelektronik GmbH – the company
Established in 1981 as an engineering office for industrial automation and electronics development, KBS is today a recognised European market leader as a specialist in the development, manufacture and installation of customer-specific systems for paperless picking. The Freiburg-based company develops practically oriented solutions in close cooperation with its customers that decisively strengthen their competitive position.
Apart from the hardware (Pick-by-Light modules, interface units, control computers, picking carts), KBS provides complete software solutions (material flow computer, picking sequence controller, SAP connection, etc.). In addition to the existing standard assemblies, customer-specific variants are possible even with small quantities. Worldwide, KBS implements both small systems with a few storage compartment displays and large projects with several thousand storage compartment displays.
KBS's list of references contains well-known customers from all branches of industry and every size of company. Successful projects have been implemented for BMW, Daimler, DHL, dm Drogeriemarkt, Fielmann, Kärcher, Mexx, Pelikan, Pfizer, Roche, Swarovski, Tesa, Tesco, Verlagsgruppe Weltbild, Volkswagen and Woolworth, amongst others.
KBS Industrieelektronik GmbH
Burkheimer Straße 10 • 79111 Freiburg
Telefon: +49 761 45 255 – 0 • Fax: +49 761 45 255 – 90
E-Mail: info@kbs-gmbh.de • Internet: www.kbs-gmbh.de