PickTerm Sentine "PTF-L-5" for zero error picking:
The PickTerm Sentinel system was developed to detect picking errors directly at the warehouse compartment.
Each compartment is equipped with a sensor which monitors the picking process. The software checks whether items should be removed from the respective compartment or not. If the operator takes or deposits items incorrectly, the system responds directly to the error by sending an optical and, if required, and acoustic signal.
Our sensor modules are especially ideal for distribution systems which use the put-to-light principle: The automatic identification of the locations where items are to be deposited dispenses with manual confirmation, which considerably accelerates your workflows.
A newly developed sensory analysis for access monitoring is the main feature of the PickTerm Sentinel « PTF-L-5 » module, that also has a luminous seven-colour eye-catching lamp as well as one function key and one acknowledgement button each.
The application decides how the signal of a detected access is evaluated.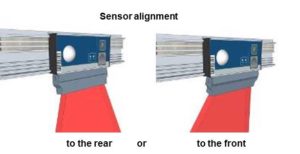 The sensory analysis of Sentinel PTF-L-5 was developed in terms of integration in shelving or other storage locations that is as convenient as possible.
The sensor module can be swivelled to the front and the rear to allow adjustment of the monitoring area to the shelving technology.
The advantages of intervention monitoring with PTF-L-5:
■ Safe avoidance of faulty removals
■ High flexibility of integration even into existing systems
■ Use possible also for automatic acknowledgement